If you have followed Mamma Loves to Save for a while you know that my family moved into a "fixer upper" split level home at the beginning of the year. It's a total Brady bunch house and I love that my modern tastes can blend in easily.
I long coveted these arc lamps that I have spotted on television shows like Modern Family, Bethenny Getting Married?, and several others. (Do I watch too much TV? Maybe.) I knew a lamp like this woudl be perfec tin my living room as we have no overhead lighting in the middle of the room.
The one pictured above
is $330 at
Allmodern.com
.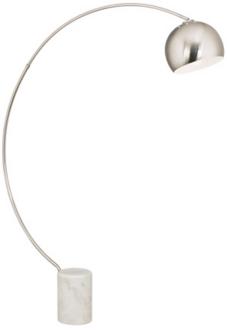 Or there is
this bargain version
that is $195.95 at
Lamps Plus.
Despite the free shipping offered, this was just not in the budget right imagine my delight when I found a very similar light at a rummage sale yesterday for....
That's right - Two dollars - and it works!
Don't get me wrong it's far from perfect. I would like to cover the base and even after a good cleaning, it looks like it could use a coat of chrome spay paint up close. (All in time.)
But I think it looks pretty good.
What do you think?
If only I could find a sleek, sectional sofa for $2 to complete the look! :)